From the first chapter:
THE VITAL OUTLOOK
IT is quite clear that a book of this size does not contain a complete analysis of human figure drawing from all aspects and in every detail. This necessary limitation of outlook is part of my purpose, for by avoiding complexity I hope to drive home the vital view of figure drawing.

I have sometimes amused myself by asking someone to define a dog. They say, "It is an animal with four legs, a tail and er . . . er . ."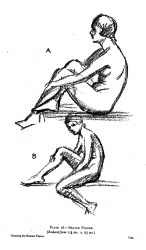 Yes, and such is the definition of many creatures. It is just as difficult to define a human being, and also to draw a human being. If you follow carefully the shapes and proportions of limbs and body you will make a drawing that will be recognised as taken from a human being; but the real secret that makes great artists is much more intangible than bone, muscle or flesh: it is an indefinable outlook, the oneness of individuality more than the differences of detail. In drawing the human being you must take into consideration the mind and soui.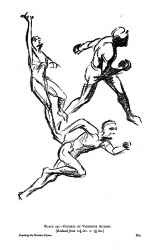 The usual condition of the human being is a clothed one. There are three reasons for drawing the nude. One is an unusual condition, such as bathing; the second is that sometimes a design, by reason of its form or abstract values, makes the nude figure essential; the last is the studying of the figure in order to draw accurately and well the human being in all its possible positions and circumstances.

My purpose in this book is to blend all these aims in one simple outlook. I do not teach anatomy or perspective; I do not advise how to finish; I do not discuss fully the problems of texture, form, colour or tone. All these are mentioned as they obtrude, but may be learnt from simple and more suitable subjects such as a cube, an orange, or a chair.

The illustrations in this book are simple very simple quick sketches. They are not specimens to copy, nor examples of how to work; every artist has his own method. Certainly these plates do not teach the subtleties of figure painting and drawing. Their purpose is to emphasize the simplicity of the human figure more than its complexity.