Figure Drawing
---
Drawing the Female
Instruction in Art
by Cliff Bennett
Home
Learn How to Draw
How to draw People
Stumble It!
Learn How to Draw Perspective
How to Paint
How to Draw Cartoons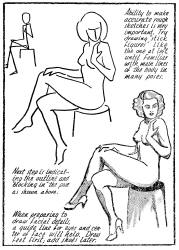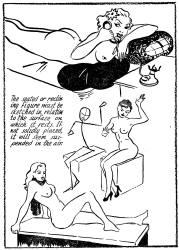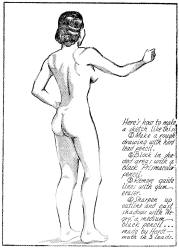 Drawing the female: Instruction in art
at Amazon.com
Drawing the Female
This book of drawing by Cliff Bennett published in 1949 has tips and tricks to drawing the female figure for the purpose of illustration.
What's in this book...
The figure against a solid background.
Step by step drawing of the female figure.
Proportions of the face.
Lighting the figure.
Proportions of the female figure.
From stick figure to finished drawing.
Rough drawings.
Perspective of the figure and foreshortening of the figure.
simplicity in shading sketches.
Cast shadows give the illusion of depth.
Contour drawing method.
Make a simple cardboard viewer to help you draw.
Crossed legs.
Female hair styles.
Using solid black in your drawings.
Triangular composition.
Simplify yor drawings.
Keep a sketchpad.
Vary your backgrounds.
Shadows.
Sketch the seated or reclining figure in relation to the surface.
Clothing follows body lines.
Profile and three-quarter views.
Twisting at the hips.
Light from the front and light from behind.
---