Table of Contents

Le Coulisses du Salon -

The Scenes of the Salon


Effets et Poses -

Effects and Poses


Sur une Plage -

On a Beach


A Jouvence les Bains -

A Youth at the Baths


Paris au Mois d'Aout -

Paris in August


Le Grand Maitre Juges par une Petit Modele -

The Grand Master Judges a Petit Model





About this ebook

Pierre Lissac was a prolific French artist and illustrator in the early twentieth century. He worked for magazines, and illustrated books such as the Songs of Bilitis.
, L' Aiglon,

Cyrano de Bergerac, Contes du Lundi, Le Cid est Revenu, L' Age Hereux, Le Monstre, Cantegril and many others. The images in this ebook are all from La Vie Parisienne. The magazine
was originally published for the social and artistic life of Paris. It became very popular and feature risque illustrations of scantily clad ladies.
Pierre Lissac brought a unusually observant and humorous illustration style to his work in the magazine, many of his works were densely populated views of street scenes with so much going on you could look for hours to see all the activity.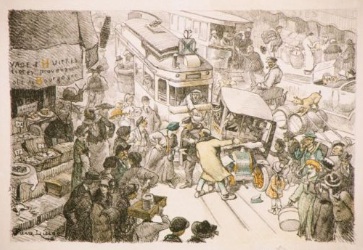 Print by Pierre Lissac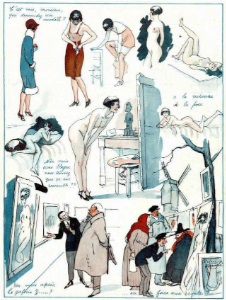 One of the original full pages from La Vie Parisienne This one is titled Effets et Poses, it tells the story of a model reporting for work, the artist at work with the model and the final question, will the artwork be exhibited successfully at the Salon, or consigned to a street fair.

The chapters are scans of individual drawings extracted from full page combinations of drawings published in the magazine.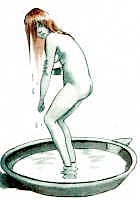 The drawings are enlarged so the reader can appreciate the detail and elegant line of Pierre Lissac. All of the drawings incorporate the humor he was famous for. The last section is a humorous look at the Salon des Artistes. The Petite Model is posing for various masters in their typical poses. I have added an appendix with copies of typical works of the artists that Pierre Lissac is spoofing and comparing the paintings to Lissac's drawings. The one illustrated here should be well known to everyone. The model poses in a tub so that Paul Chabas can make another of his women in a pool paintings, this one of course is September Morn.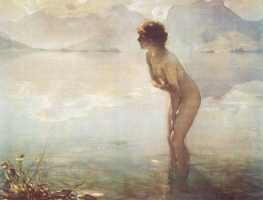 September Morn by Paul Chabas