Hand Proportion Made Simple (Paperback) by Ivan Whillock
Head Proportion Made Simple (Paperback) by Ivan Whillock
Albrecht Durer (1471-1528) On Human Proportion

Art Education for High Schools, The Prang Company
From the same high school ar manual the female body is illustrated as the equivilant of seven and one half heads.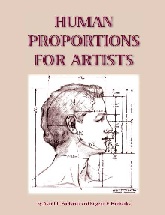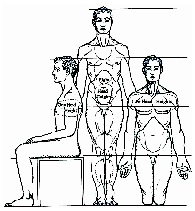 Human Proportions for Artists (Spiral-bound) by Avard T. Fairbanks (Author), Eugene F. Fairbanks (Author)
This is a comprehensive studio guide to human proportions listing over one hundred measurements of both male and female figures with head and face details. Measurements are in both inch and metric systems and fractions are in columns from heroic to 1/12 life size. Section are included on relative and comparative proportions and of dynamic symmetry.